Good health starts with good food that is plant-based and rich in phytonutrients to nourish our bodies from within. To quote Nutrilite founder Carl F. Rehnborg, "All of the factors required in nutrition are nearly always found in plant substances."
Careful cultivation of these natural ingredients results in optimum plant-based nutrients so you can have food that's as good for you as they taste. It is also crucial that these ingredients are carefully processed in order to preserve their nutrients and health properties.
Understanding the importance of nourishment in maintaining optimal health, Nutrilite has always been at the forefront, farming the freshest of ingredients and tapping into decades of research in botanical science and nutrition to produce award-winning health supplements.
Now, the company is taking it one step further by tapping into its years of unrivalled expertise to serve up some wholesome daily nourishment filled with goodness grown and harvested from certified-organic farms.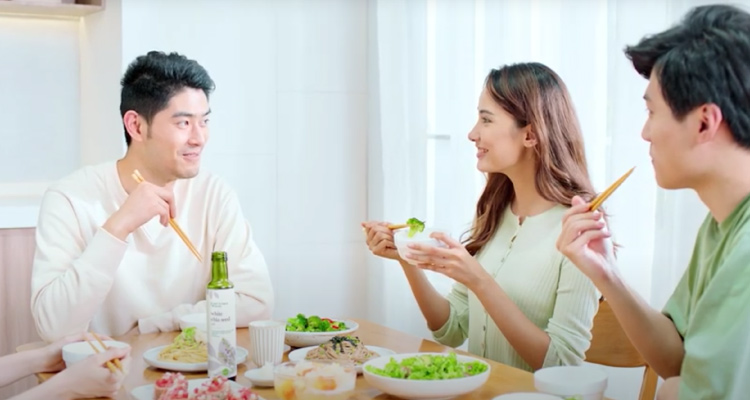 Introducing Plant to Table by Nutrilite, an exciting range of delicious Ready to Eat and Ready to Cook offerings designed to give you a quick phytonutrient-powered boost.
To deliver top-quality products, ingredients high in nutrients were chosen, grown through sustainable farming and harvested at the right time when the nutritional value is at its highest. Nutrilite's 9-Step Traceability also ensures that these ingredients are traceable from farm to bottle, so that purity, safety and efficacy are ensured every step of the way.
Let's take a look at the first three of this wonderful range:
White Chia Seed Oil
White Tea Mix with Chrysanthemum & Goji Berry
Green Tea Mix with Rose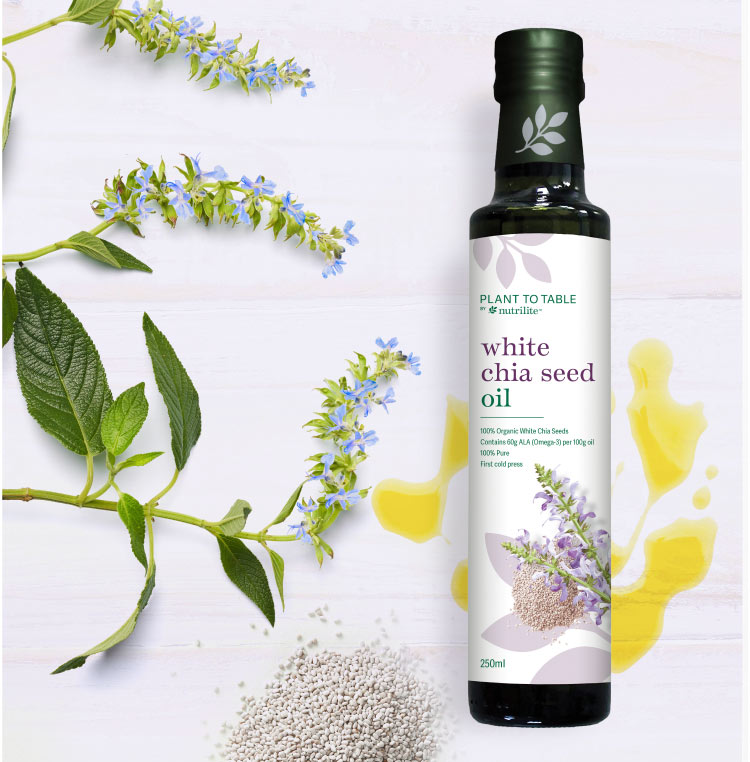 White Chia Seed Oil
Suitable for vegetarians, white chia seed oil has a yummy nutty flavour that makes it a healthy and tantalising choice.
As one of the highest plant-based sources of Omega-3, white chia seed offers great benefits for heart1,2,3, brain4, skin5, and eye6 health.
Our White Chia Seed Oil is:
100% cold-pressed to preserve its benefits and quality
Harvested from NutriCert farms (which guarantee NO synthetic pesticides, herbicides or fertilisers used on our crops) with Nutrilite's 9-Step Traceability
Great for roasting, baking, stir-frying, salad dressings and more – talk about versatile!
Most importantly, it contains 60g alpha-linolenic acid (ALA, an Omega-3 fatty acid) per 100g of oil for multiple health benefits – hooray!
Plant to Table by Nutrilite Tea Blends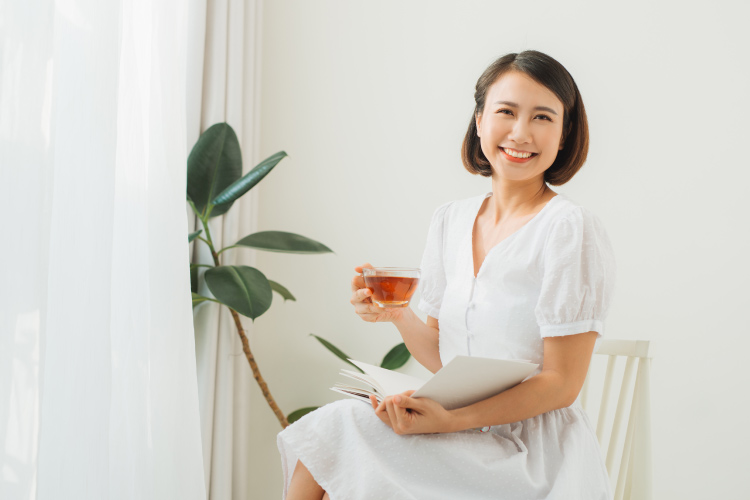 Looking for a new flavour of tea to add to your repertoire? Brew up Nutrilite's Plant To Table tea blends, formulated with traditional ingredients long valued for their natural properties.
To preserve the ingredients' quality, flavour, fragrance and health benefits, our teas are made with advanced freeze-dried technology. You get 5-7x more concentration in a convenient powder form and all of its natural goodness.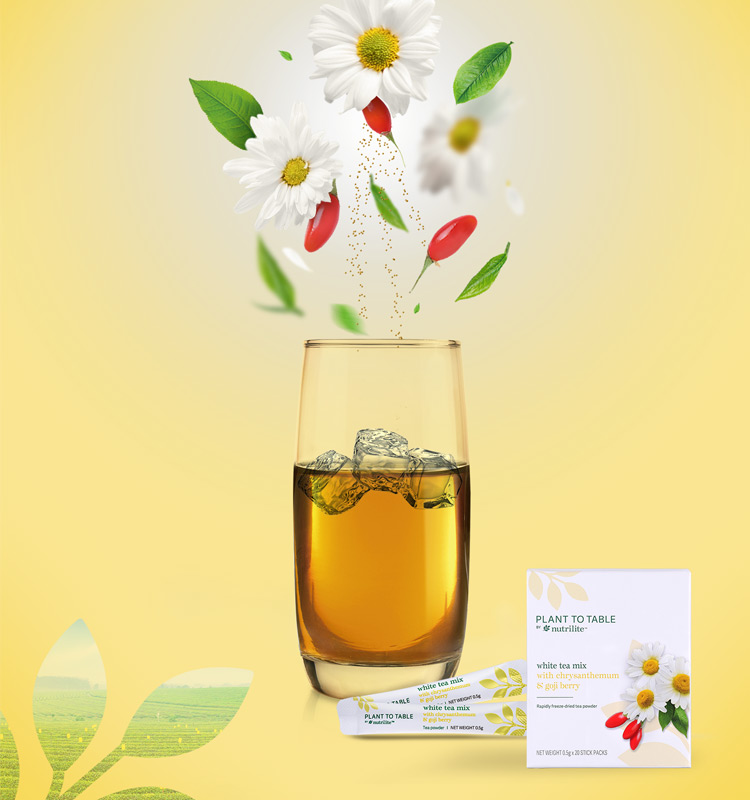 White Tea Mix with Chrysanthemum & Goji Berry
Relax your mind and body with white tea and chrysanthemum from China's Zhejiang province and goji berry from Ningxia Hui.
Chrysanthemum and goji berry provide anti-inflammatory benefits, especially in the respiratory tract, eye stress release and wellness enhancement7,8. Chrysanthemum also contains Flavonoids-Luteoloside, which are great for helping you relax and take your mind off your troubles7.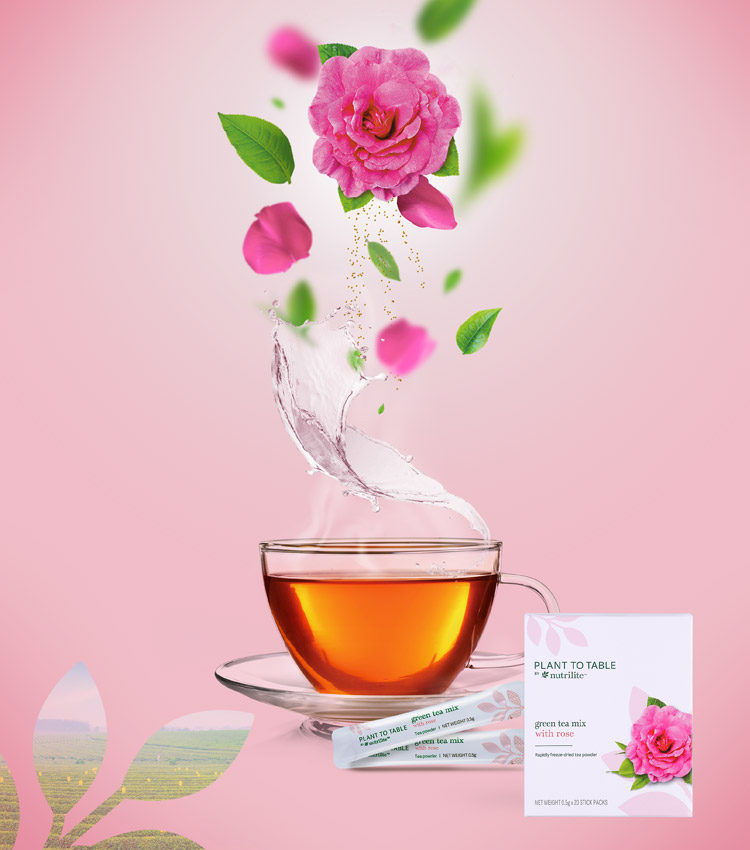 Green Tea Mix with Rose
Refresh your senses with fragrant roses from China's Wuhan province blended with freshly plucked green tea from Zhejiang.
Green tea is rich in antioxidants as are rose's polyphenols-phenolic acids, while rose revitalises and promotes good skin9.
Guess what? Both teas can be mixed with hot or cold water so you can enjoy them any time of day, no matter the weather.
Keep an eye out for more information and upcoming products in our Plant To Table range!
References:
Swanson D, Block R, Mousa SA. Omega-3 fatty acids EPA and DHA: health benefits throughout life. Adv Nutr. 2012 Jan;3(1):1-7. doi: 10.3945/an.111.000893. Epub 2012 Jan 5. PMID: 22332096; PMCID: PMC3262608.
Sala-Vila A, Fleming J, Kris-Etherton P, Ros E. Impact of α-Linolenic Acid, the Vegetable ω-3 Fatty Acid, on Cardiovascular Disease and Cognition. Adv Nutr. 2022 Oct 2;13(5):1584-1602. doi: 10.1093/advances/nmac016. PMID: 35170723; PMCID: PMC9526859.
Yanai H, Masui Y, Katsuyama H, Adachi H, Kawaguchi A, Hakoshima M, Waragai Y, Harigae T, Sako A. An Improvement of Cardiovascular Risk Factors by Omega-3 Polyunsaturated Fatty Acids. J Clin Med Res. 2018 Apr;10(4):281-289. doi: 10.14740/jocmr3362w. Epub 2018 Feb 18. PMID: 29511415; PMCID: PMC5827911.
Lauritzen L, Brambilla P, Mazzocchi A, Harsløf LB, Ciappolino V, Agostoni C. DHA Effects in Brain Development and Function. Nutrients. 2016 Jan 4;8(1):6. doi: 10.3390/nu8010006. PMID: 26742060; PMCID: PMC4728620.
Thomsen BJ, Chow EY, Sapijaszko MJ. The Potential Uses of Omega-3 Fatty Acids in Dermatology: A Review. J Cutan Med Surg. 2020 Sep/Oct;24(5):481-494. doi: 10.1177/1203475420929925. Epub 2020 May 28. PMID: 32463305.
Cakiner-Egilmez T. Omega 3 fatty acids and the eye. Insight. 2008 Oct-Dec;33(4):20-5; quiz 26-7. PMID: 19227095
Yao Fu, Jin-chao Yang, Anthony B. Cunningham, Alexandra Maria Towns, Yu Zhang, Hua-ying Yang, Jian-wen Li, Xue-fei Yang. A billion cups: The diversity, traditional uses, safety issues and potential of Chinese herbal teas, Journal of Ethnopharmacology, Volume 222, 2018, Pages 217-228, ISSN 0378-8741, //doi.org/10.1016/j.jep.2018.04.026.
Jin Yang, Yu-qing Wei, Jian-bao Ding, Yan-long Li, Jian-long Ma, Jian-li Liu, Research and application of Lycii Fructus in medicinal field, Chinese Herbal Medicines, Volume 10, Issue 4, 2018, Pages 339-352, ISSN 1674-6384, doi.org/10.1016/j.chmed.2018.08.006.
Haji Akber Aisa, Xuelei Xin, Liu Liu, Chapter 38 - The Antidiabetes Effect and Efficacy of Rosa rugosa Thunb, Editor(s): Ronald Ross Watson, Victor R. Preedy, Bioactive Food as Dietary Interventions for Diabetes (Second Edition), Academic Press, 2019, Pages 601-614, ISBN 9780128138229, doi.org/10.1016/B978-0-12-813822-9.00038-2.