There's no denying that we live fast-paced lives, so we don't always have the time to pause and take note of the things that matter. It doesn't mean we shouldn't try, of course, but you don't need to go all out either. A few little steps can help you amplify the good in your everyday life. Here's how to do it with the help of the Nutrilite Double X all-in-one dietary supplement and Nutrilite Protein Drink, as well as some minor lifestyle tweaks.
1. Give yourself and your family the best, each day
We want to give ourselves and our families only the best — the same principle that Nutrilite believes in. So amp up on your nutrition and work on strengthening your body each day, little by little, with the help of Nutrilite. Inspired by the philosophy "Best of Nature. Best of Science", Nutrilite products possess the best of what both worlds have to offer in terms of helping people lead healthier lifestyles. You can also
trace
where the ingredients in their supplements come from — from seed to consumption — because Nutrilite is proud of being ridiculously (and rightfully so) detailed, ensuring the purity, safety and effectiveness of their products for you and your family. Plus,
Nutrilite is the only global vitamin and dietary supplement brand to grow, harvest and process plants on their own certified organic farms.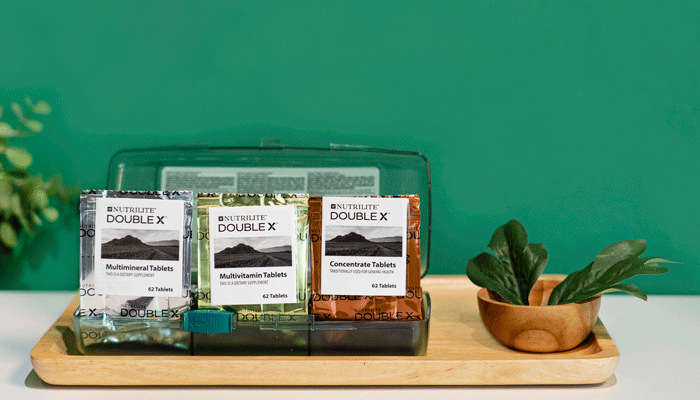 2. Enrich with Nutrilite Double X
Enrich your nutrition every day with the help of the Nutrilite Double X, the only all-in-one dietary supplement that contains 12 vitamins, 9 minerals and 17 phytonutrient-rich plant concentrates — yes, from fruits and vegetables that are organically grown. It also doesn't have artificial preservatives, flavouring or colouring. Nutrilite Double X, from the world's #1 selling vitamin and dietary supplement brand1, fills in the gaps in our daily nutritional needs with the best of nature and the best of science. It gives a solid foundation for your supplement program and helps your body to absorb external nutrients better, prevents cellular damages and strengthens your body's natural defence. Plus, more energy for the things you love, stronger immunity from germs and other invisible enemies, and overall better health so you can enjoy every day and every stage of your life.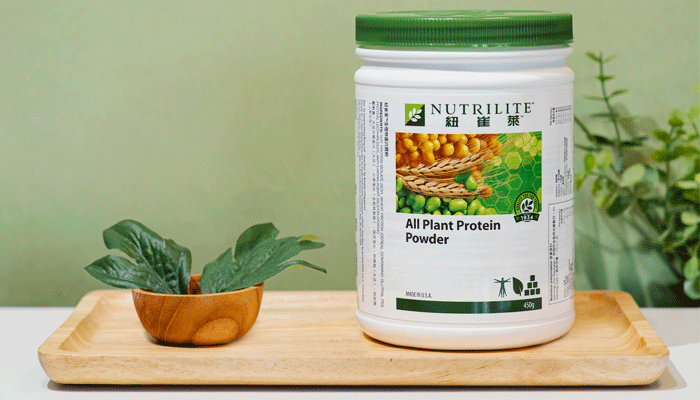 3. Boost with Nutrilite Protein
Give your children's growth, as well as the adults' vitality and energy, a boost with the Nutrilite Protein Drink Mix, from the world's #1 selling protein supplements brand2. It contains 9 essential amino acids, which are the building blocks of protein. People know that protein is important when it comes to nutrition. But how essential is it? It aids in building and repairing bones, muscles and blood. So it's only fitting that, in our modern world where lifestyles are hectic, proper protein intake is given attention. You can do so with the Nutrilite All Plant Protein Drink, which does not only contain protein from three vegetable sources — soy, wheat and pea — but is also low-fat and cholesterol-free. Nutrilite Protein Drink also has a Protein Digestibility Corrected Amino Acid Score (PDCAAS) of 1 and provides all 9 essential amino acids in the form of high-quality, high-absorption protein.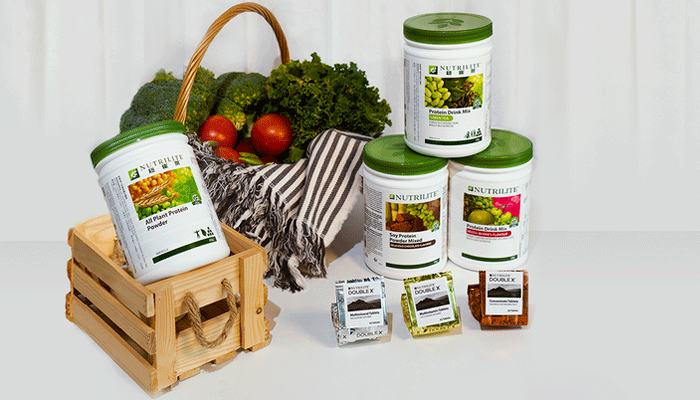 Minor lifestyle tweaks
Keep your mental health in check too. Make sure you are present with your thoughts and focus on what matters by keeping a journal. Whether it's keeping track of the things you're grateful for or planning on what to focus your energy on, journaling can help you to recognise the good moments of every day.
Multiply the joy in your soul by making sure you spend time with your family. Quality time with those who are dearest to you not only improves your relationship with them but also gives you much-needed respite and enlightenment. Share a cup of coffee or just chat about what's going on your lives — nothing is too simple, and everything is worthwhile.
Nourish your body so you can continue doing the things you love with ease and peace. Enrich your balanced diet and exercise with the Nutrilite Double X all-in-one dietary supplement and Nutrilite Protein Drink.
Source: Euromonitor International Limited; protein supplements category, % retail value share, 2020 data.2
Source: Euromonitor International Limited; Vitamins and Dietary Supplements, World GBN, Retail Value RSP, % breakdown, 2019.

Content created in partnership with Clozette.