Skincare routines are essential for keeping your skin healthy and protected so it stays younger-looking for longer. But it takes more than just a cleanser, toner and moisturiser to really let your skin shine. A healthier skincare routine includes four steps: cleanse, tone, TREAT, and moisturise. Treating your skin with a serum that targets specific skin concerns will help your skin be healthier and look more radiant.
But if you're new to serums, it can get confusing at first because there are a variety of serums available – each with their own benefits! To help you skip the confusion, here's a quick guide to understanding serums and figuring out how to choose the right serum for your skin concerns.
What are serums?
A well-rounded skincare routine should include serum application to ensure you get the maximum benefit of a specific ingredient. The purpose of the active ingredient can vary from hydrating to skin brightening to anti-ageing.
Since serums feature a higher concentration of active ingredients, its higher percentage of active molecules means better penetration through your skin, and faster, more visible results.
But you may ask - if I'm already using a moisturiser, do I really need a serum?
The answer is yes. While moisturisers seal in hydration and active ingredients, serums are supercharged and optimised to deliver targeted and potent benefits to the skin based on the active ingredients. That's why you need both a serum and moisturiser in your skincare routine instead of choosing one over the other.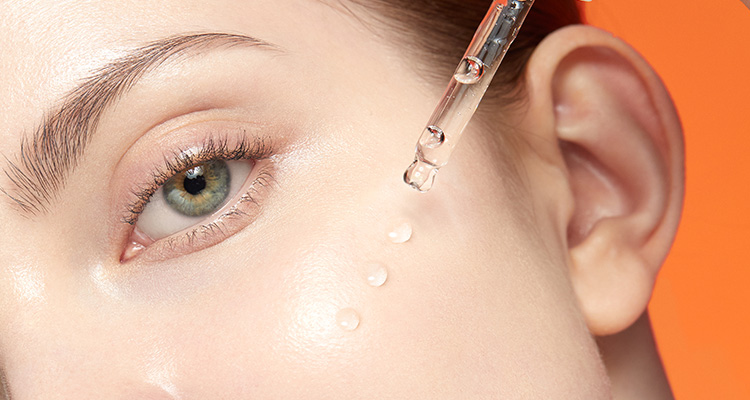 Benefits of serums
Serums come with a number of great benefits for your skin such as fighting off skin dullness, unevenness, fine lines, wrinkles and even acne. Lightweight and concentrated, serums are best when paired with your regular cleanser, toner and moisturiser as it allows for:
Quicker absorption into your skin
Targeted benefits with brightening serums, anti-ageing serums, anti-oxidant serums, etc.
Better soothing for sensitive and acne-prone skin
Faster results from ingredients like Vitamin C and hyaluronic acid
How often should I use a serum?
Depending on the active ingredients in the formula, serums can be used daily or as specialised skincare. Specialised serums target specific skin concerns and should be used as directed.
Daily serums on the other hand, target and treat daily damages such as dullness and fine lines caused by dehydration, pollution and free radicals It also prevents oxidative damage and strengthens your skin barrier to sustain bright, youthful-looking skin – making daily serums an essential step in your healthy skincare routine.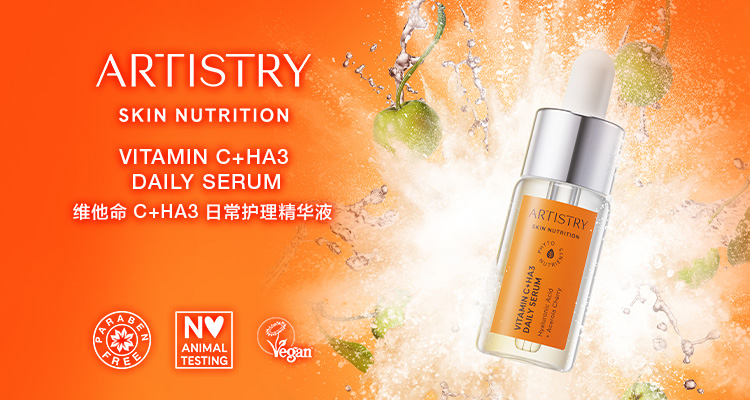 Introducing the ARTISTRY SKIN NUTRITION Vitamin C+HA3 Daily Serum
Get your daily boost of radiance with the ARTISTRY SKIN NUTRITION Vitamin C+HA3 Daily Serum! The latest addition to ARTISTRY's range of skincare, it brings out the glow to your skin for a rejuvenated appearance.
A vegan-friendly, paraben-free and made with no animal testing, this antioxidant serum offers twice as much vitamin C (when compared to the previous formula) and over 2.4x more antioxidant power to protect your skin against free radicals that may cause skin ageing.
Its all-new Line-Smoothing Peptide Blend feeds your skin with the nutrients it needs to combat fine lines and wrinkles with visible results! Pair that with three different types of Hyaluronic Acids (HA) to ensure maximum hydration from the top layer of the skin down to the deeper layers and you get visibly firmer, plumper skin.
This antioxidant powerhouse is further powered by Nutrilite™-grown White Chia Seed and Acerola Cherry, our traceable phytonutrients blend that gives you all the benefits of the high antioxidant content of Acerola Cherry and the skin barrier-strengthening support of White Chia Seed.
Reveal Bouncy & Glowing Skin With ARTISTRY Collagen Glow Duo!
Here's a bonus tip! Want to start your morning with glowing, bouncy skin? Pair your ARTISTRY SKIN NUTRITION Vitamin C+HA3 Daily Serum with the new ARTISTRY INTENSIVE SKINCARE Vita Collagen Capsule at night!
Tiny in size but mighty in power, ARTISTRY INTENSIVE SKINCARE Vita Collagen Capsule contains 70.6% of hydrolysed collagen per capsule and a 7-Vitamin Complex that restores your skin's elasticity and youthfulness.
When used together, the ARTISTRY SKIN NUTRITION Vitamin C+HA3 Daily Serum and ARTISTRY INTENSIVE SKINCARE Vita Collagen Capsule deliver benefits for an enhanced skincare experience.