In addition to having a clean home, a scrumptious spread, and new dresses, having clear and bright skin during the holiday season is a must! After all, family photos and selfies won't have the same charm without bright and glowing skin.

So, if you're looking to brighten and add a glow to your skin, one skincare product that is a must-add to your skincare routine is a Vitamin C serum. Vitamin C is great for anti-ageing because it's full of antioxidants that help minimise the appearance of fine lines and wrinkles while restoring elasticity to your skin.
What To Look For In Your Vitamin C Skincare Product?
Vitamin C skincare products come in different textures such as moisturisers and serums – and they each have their own benefits. One benefit of a Vitamin C serum over a moisturiser cream is that the serum has a more fluid texture. This means that it is more easily absorbed into the skin for better efficacy.
You want to also make sure that your Vitamin C serum has been dermatologically tested and does not contain harmful ingredients for your skin – just like the ARTISTRY SKIN NUTRITION VITAMIN C+HA3 DAILY SERUM.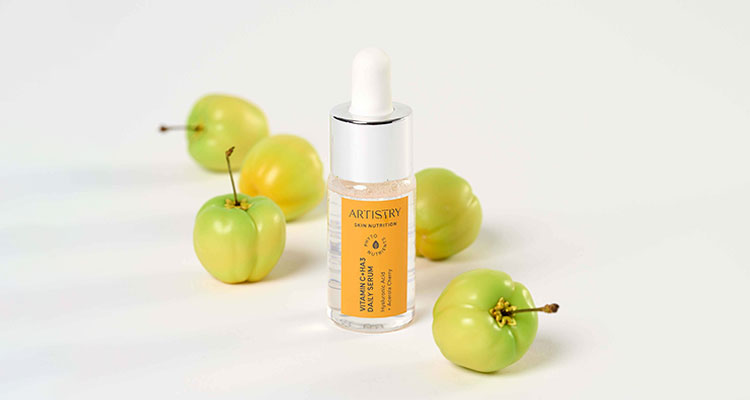 How Does The
ARTISTRY SKIN NUTRITION VITAMIN C+HA3 DAILY SERUM

Improve Skin Health?

As explained earlier, serums usually have a thinner texture and Artistry Skin Nutrition Vitamin C+HA3 Daily Serum is fluid enough that it is easily absorbed into the skin without leaving a greasy sheen.

With the highest-ever concentration of Hyaluronic Acid (HA) in an ARTISTRY formula, our HA3 Triple Hyaluronic Acid Fusion has 3 different sizes of HA molecules that work miracles on different skin surface levels.

Here are 4 reasons to try this powerful serum.
4 Reasons To Try ARTISTRY SKIN NUTRITION Vitamin C+HA3 Daily Serum
Vitamin C helps build collagen naturally in the skin to minimise the appearance of fine lines and wrinkles.

This serum taps into Vitamin C's superpower to powerfully boost your skin's natural glow so that even bare skin looks brighter from within. The brightening effect comes from how Vitamin C diminishes dullness, improves uneven skin tone and transforms it to be bright and healthy-looking

.

2.4x More Antioxidant Power. Added Ginseng for more antioxidant protection against free radicals

Nutrilite™-grown White Chia Seed & Acerola Cherry

Traceable phytonutrient powerhouses that strengthen the skin's barrier and keep skin looking healthier and younger, longer,

so you can rest easy knowing that the serum's main ingredient is pure, safe, and effective.
Concentrated Hyaluronic Acid in the base serum provides an additional hydration boost that plumps the skin. It moisturises the skin while preventing pigmentation and dark spots caused by dry skin.
Watch the video below and dive into the 101 of Vitamin C and Hyaluronic Acid, as we consult an Artistry research scientist on their uses and benefits, and share how a multi-tasking product like the ARTISTRY Skin Nutrition Vitamin C+HA3 Daily Serum can tackle skin woes.

This holiday season, look no further than the ARTISTRY SKIN NUTRITION Vitamin C+HA3 Daily Serum to help your skin glow up. Be the star in every photo as you pose, smile and flaunt your glowing skin.