Modern life keeps all of us busy, so it's easy to sometimes miss important meals, leading to an overall lack of nutrition. This is a great opportunity to introduce someone to Amway products that fills the nutritional gaps like Nutrilite Soy Protein, as well as keeping energised all day long with XS Energy Drinks. Not sure where to start? Use the Switch, Share, Duplicate (SSD) App which has handy features to make sharing easier:

How Does The SSD App Work?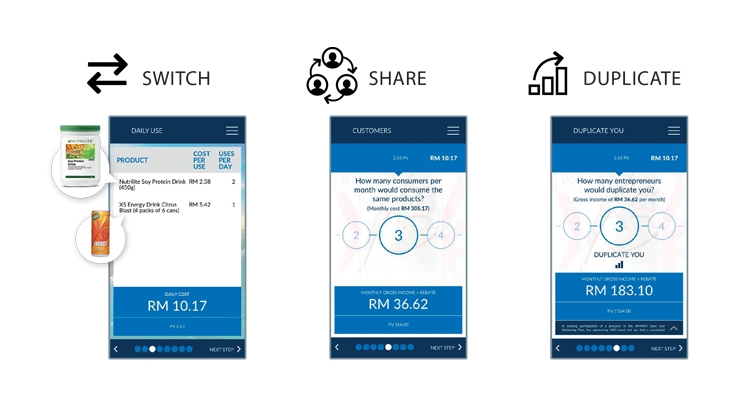 Switch
Make a list of the drinks and supplements from Amway that match the replenishable products you usually buy every month.
Choose preferences like flavour, number of units and even the regularity of purchase and the tool will tally it up for you automatically and show how much you can make by switching to Amway products.

Share
Work out and estimate how many people you know who might also switch their preferences and buy Amway products from you instead.
Calculate your earning potential depending on how many people switch. Simply add them on, then add them up.

Duplicate
What if a few of your 'switched' friends are keen to also switch with their friends and make some extra money?
Quickly and easily calculate business growth when others duplicate your efforts, all viewable on a useful summary screen with key details like income generation/multiplier and projected earnings.

How Do I Access The SSD App?
The SSD App is located within the Amway Central Malaysia app. Download the Amway Central Malaysia app and select 'Switch Share Duplicate' under the Business Tools' section to begin using it.