Thanks to its rich history and steady rise in the modern world, Shanghai remains one of the world's most fascinating cities, captivating many with that distinct blend of the old and the new.
Taking inspiration from the city's diversity, the ARTISTRY STUDIO Shanghai Edition comes with a wide range of brilliant colours and delightful textures to create various makeup looks. What are you waiting for? Let's get started!

Kiss Me Cute Look
There's something so endearing about a cute and innocent look – it's attractive yet approachable and so easy to create. Here's a simple look with fresh eyes and a pop of lip colour that's as charming as Shanghai's green gardens and water towns, and every bit as memorable.
Nothing says up-for-anything like bright red lips that can't stop smiling. Pair the red that works for you with soft eyes in Shanghai Peach and Silk Noir. Start with Primer for a modern, matte finish. Love the larger-than-life impact as captivating as the city itself.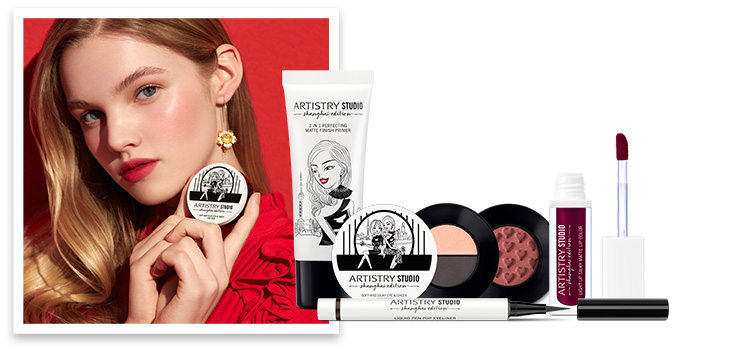 Face
Firstly, apply the 2-in-1 Perfecting Matte Finish Primer evenly onto your face and neck.

Eyes & Cheeks
Use the Soft and Silky Eye & Cheek Pop Trio in Shanghai Peach on your eyes and cheeks. Sweep the lighter eyeshadow across the entire eyelid and the darker shade under the eye line. Brush the cheek colour onto the apples of your cheeks.

Liner
Keep it natural with the Liquid Pen Pop Eyeliner in Silk Noir. Draw the eyeliner along the upper and lower lash lines; be sure to keep the line very fine on your lower lashes.

Lips
Line and fill in your lips with the Light Up Silky Matte Lip Color in Berry Red. Keep it handy for touch-ups throughout the day.

Look out for our next ARTISTRY STUDIO Shanghai Edition makeup look!