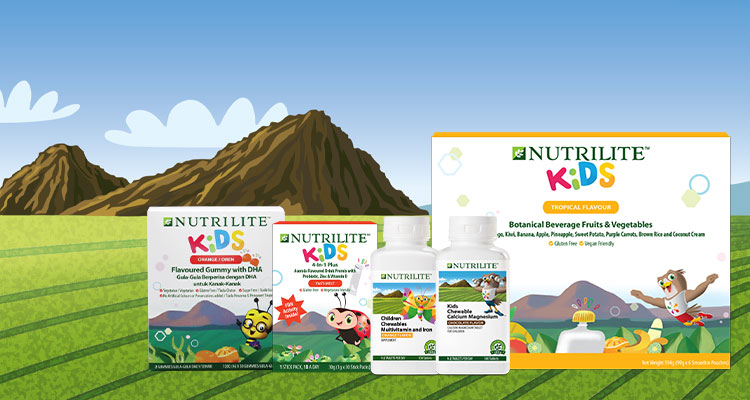 START YOUNG & STRONG
KIDS CHEWABLES MULTIVITAMIN AND IRON SUPPLEMENT
If your child isn't getting the recommended amounts of vitamins and minerals needed for a growing body (consult a paediatrician if you must), all it takes is one chewable tablet to provide substantial amounts of ten vitamins (A, B1, B2, niacin, B6, folic acid, B12, C, D, E) and iron! Promote healthy muscle, aid metabolism and enable strong bone and tooth formation with these nutrients.

Is a superfood smoothie snack with 10 plant ingredients from 5 phytonutrient colour groups to help your child fill nutritional gaps. It provides one cup worth of fruits and vegetables with just a beverage in one pouch, the same amount of nutrients your child needs from fruits and vegetables in one meal! If is also a healthier snacking option for your kid with no added sugar!

Nutrilite Kids 4-in-1 Plus provides support for your child's immune system with Vitamin C, Vitamin D, Zinc, and Probiotic exclusively ALL IN ONE product! It supplements the daily nutritional intake of your kids with just one stick pack a day! It is gluten-free, dairy-free, and suitable for vegetarians with no added colours or flavours.

Is a plant-based supplement that supports your brain, eye, heart, and overall health in this one product with just 2 gummies a day, for all above 4 years! One gummy provides you with 50mg of DHA.
Provides a balanced combination of calcium and magnesium – calcium helps in the formation and maintenance of bones and teeth while magnesium is necessary for the mobilisation of calcium in the body, thus helping in bone growth and proper functioning of the nerves and muscles.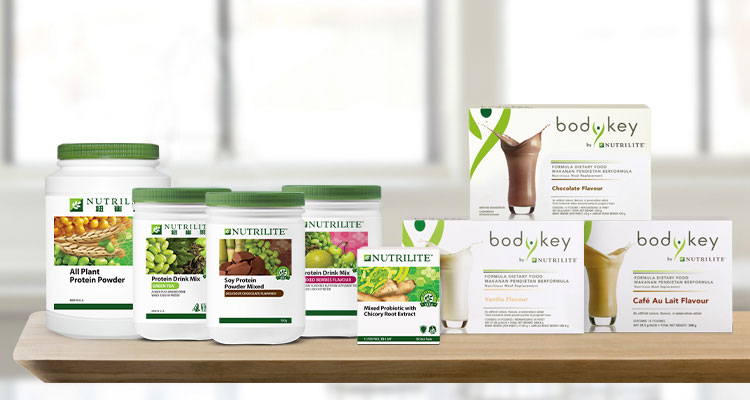 BEAT THE 9-5 WORK FATIGUE
MIXED PROBIOTIC WITH CHICORY ROOT EXTRACT
We all know the struggle at work if your tummy is upset during those important meetings! So, maintain your digestive health with the Mixed Probiotic with Chicory Root Extract which contains 5 hero strains of probiotic that arrives alive and sticks to your gut to keep bad bacteria at bay. It also has 6.3 billion colony-forming units (CFUs) to strengthen your immune system considering 70% of your immunity lies in your gut!
BODYKEY BY NUTRILITE MEAL REPLACEMENT SHAKES
A fantastic supplement for those looking to manage their weight, all 3 delightful flavours contain a carefully formulated blend of 25 vitamins & minerals to give you a nutrient-packed meal in a glass. Despite containing only 120kcals this shake still manages to provide you with 5g fibre and 6g protein per serving.
Give your body the protein and amino acids it needs for healthy body development! Maybe it's the 3 delicious flavours or maybe it's because the high-quality protein and amino acids from natural sources that are great for energy levels, muscle growth and helping your body repair and maintain itself, it's also suitable for vegetarians and is low in fat and cholesterol. Each flavour is formulated individually and as a result there is a slight variation in the protein content of each variety.
STAY A GOLDEN AGER
MIXED PROBIOTIC WITH CHICORY ROOT EXTRACT
The older you get, the lesser the count on friendly bacteria in your gut! So, prevent all those uncomfortable trips to the toilet with probiotic. This supplement comes with Chicory Root Extract which provides the prebiotic fibre inulin, to support the growth of beneficial bacteria in the gut. Grab a stick and pour directly onto tongue and you're ready to go.
Improve muscle strength, retain bone mass and improve your general health and wellness with protein. The Soy Protein Drink comes packed with 9 essential amino acids, no dairy or animal-derived ingredients, lactose-free and suitable for vegetarians too.