It is no secret that Singaporeans are obsessed with makan (food), from talking incessantly about our last meal, to feverishly photographing, critiquing and posting about it online. It's hardly surprising – food is one of Singapore's greatest drawcards, the nation's melting pot of cultures creating one of the world's most diverse, drool-inducing culinary landscapes.
Nutrilite has just what you need to ensure that you can partake in delicious food and yet still maintain your peak health. We pick four must-have products from Nutrilite which will help you maintain good health in addition to all those hours spent at the gym!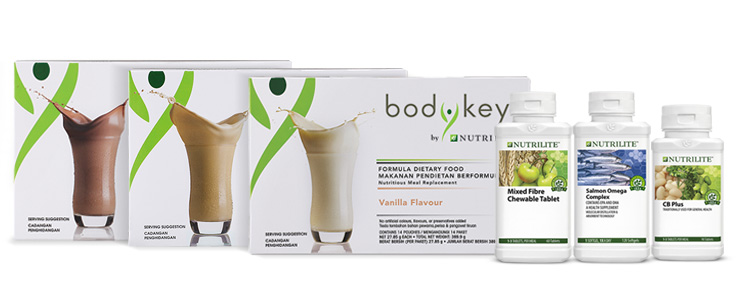 Salmon Omega Complex
Perfect to maintain your overall general health, the Nutrilite Salmon Omega Complex contains a unique blend of the finest fish oils, it is high in concentration of health-benefitting EPA and DHA fatty acids.
Proven health benefits of Omega-3 fatty acids include raising 'good' HDL cholesterol levels, boosting skin health and supporting healthy blood flow and heart function.
Mixed Fibre Chewable Tablet
The Nutrilite Mixed Fibre Chewable Tablet contains both soluble and insoluble naturally-sourced fibres. This is important as soluble fibre reduces blood sugar levels, increases feeling of fullness and helps to lower blood cholesterol by lowering low-density lipoprotein, or 'bad', cholesterol levels while insoluble fibre adds bulk to your stool, helping the stool pass more quickly through the intestines. Also, both soluble and insoluble fibres synergistically works to promote improved gut health!
BodyKey By Nutrilite Meal Replacement Shake
We know that feasting on good food is unavoidable (and we don't want you to miss out as well!) but why not control the meals you can? Ensure that you replace at least one meal a day with the BodyKey by Nutrilite Meal Replacement Shake to get in the 25 vitamins and minerals which are essential to your health.
Formulated for convenience, great taste and a low-calorie count, we recommend that you take your BodyKey by Nutrilite Meal Replacement Shake for breakfast to manage your calorie intake for the day.
CB Plus
Arm yourself with Nutrilite CB Plus whenever you leave the house as you never know when you might need it! It is recommended to take one to three tablets before a carb heavy meal.
Formulated with purely organic ingredients containing essential nutrients, this could be just what you need to keep on track with your weight management programme!
Source: Lonelyplanet https://www.lonelyplanet.com/singapore/narratives/in-location/eating