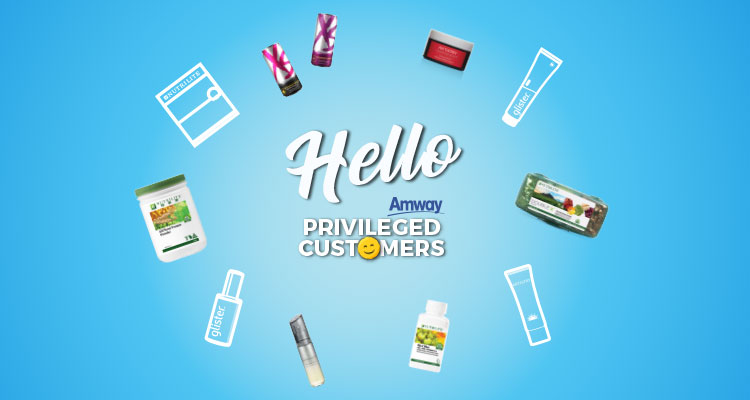 The Amway Privileged Customer Programme
The much-anticipated Amway Privileged Customer (APC) has launched!
If you've always wanted to explore more about the wonderful products that Amway has to offer, the APC Programme is the best way to do so. Here are a few things you need to know about it.


What's Great about the APC Programme
Being an APC makes experiencing Amway products that much easier for you. When you sign up as an APC, you get to enjoy several savings & benefits, including:
Earn AMPoints with every Amway product purchase to redeem against future product purchases
Monthly promotions
Purchasing up to 3 of each product SKU per day for your own use
Shop at any Amway City Shop or order online and have the comfort of home delivery
A digital copy of Amway's Product Catalogue
Full access to the Amway Central app for the latest info
Full access to the AmwayNow digital magazine
Health & Beauty consultations by our Nutrilite and Beauty Advisors at the Brand Experience Centre (by purchasing Brand Experience Center coupon online)
Experience Center (by purchasing Brand Experience center coupon online)
New APC Experience Programme eCoupons
$10/$10/$10 (Minimum Order Value S$100)

What are AMPoints?
AMPoints are loyalty points earned by APCs when they purchase Amway products.
Spend 1$ = Earn 1 AMPoint
Earn 1 AMPoint for every $1 you spend on product purchases.
Simply convert AMPoints to eCoupon before use.
900 AMPoints = $5.00 eCoupon.


AMPoint Restrictions
Not redeemable for purchases at PhytoCafe, and Delivery or After Sales Service Charges
Cannot be converted to Cash and/or Credit Voucher and are non-transferable
Will be forfeited once the APC resigns or converts to ABO. AMPoints used cannot be reinstated.
Of course, there are a few stipulations that come with all these great perks.


APC Stipulations
A husband and wife can only have one APCship between them
Purchasing up to 3 of each SKU per day for your own use. Purchase with the intention to resell is not allowed
Not allowed to sign up other APCs or ABOs
AMPoints collected cannot be transferred to ABO sponsor or another APC, nor can it be converted into Cash or Credit Vouchers


Signing Up as an APC
You can visit www.amway.sg directly to register yourself as an APC by filling in your details and paying the Annual Membership Fee of $10. Be sure to fill in your Amway Business Owner's ABO number! If you do not know an ABO, Amway will assign one to you.
OR
Your can have your ABO send an email invitation link to you.* Once you've received the email, click on the link included and register as an APC by filling up your details and paying an Annual Membership Fee of $10.


APC Eligibility
Everyone (almost) can be an APC, as long as they fit the following criteria:
18 years and above
Citizen/PR/Foreign Resident with Legitimate Pass issued by the Government of Singapore with a valid local address.

Hold NO ABOship / APCship across Malaysia/Brunei/Singapore
For more information, check out this video! https://bit.ly/3pPBAcK
Be sure to check out our eBrochure here, too!