The COVID-19 pandemic has been going on for more than a year. Yet, it is due to the tough times that we see the community being brought closer together to help one another through the adversity. This resonates with the Amway vision of helping people live better, healthier lives.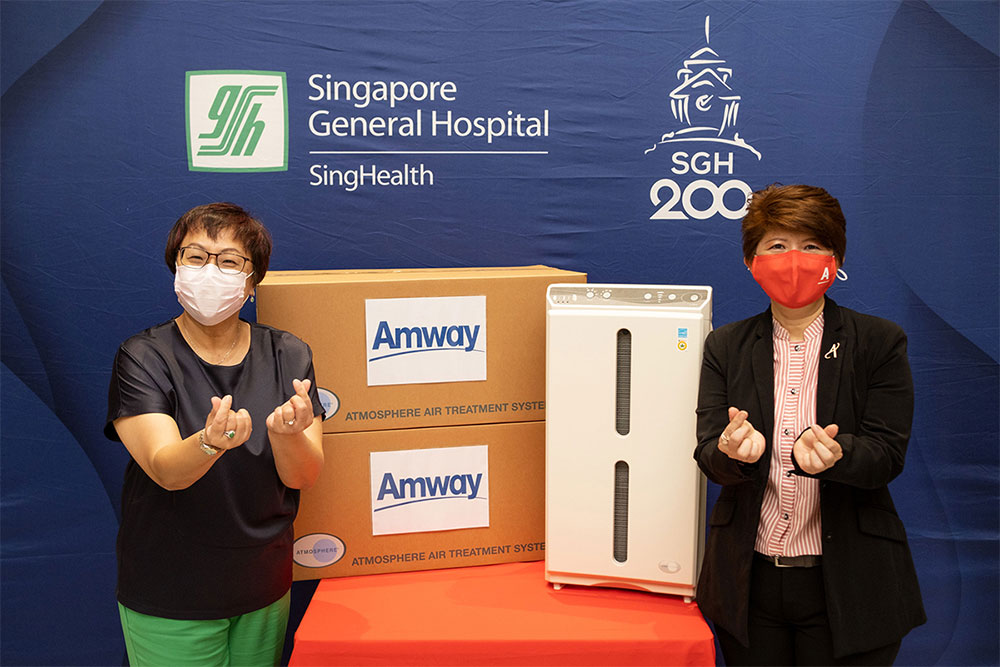 Donating air purifiers and energy drinks to healthcare workers
In doing our part, Amway Singapore has donated 80 units of Atmosphere Air Purifiers worth S$215,040 to the Singapore General Hospital (SGH) in December 2020 to provide cleaner indoor air.
Amway Singapore Country Manager Ms Amanda Kok said: "Public health institutions are the focal point in battling and mitigating the spread of COVID-19. Our Atmosphere Air Purifiers effectively remove 99.99% of contaminants and pollutants to provide cleaner and better air, thus reducing the risk of contamination."
This donation to SGH is in addition to 1,200 cans of XS Energy Drink Cranberry-Grape Blast worth S$2,760 that were provided to healthcare workers in SGH. XS sugar-free energy drink contains multiple vitamins that support our body's internal energy production pathways to deliver a powerful punch of energy within a tasty explosion of flavour.
Responding to this community support, Ms Angela Ng, Director Communications at SGH said, "We are truly appreciative of Amway Singapore for their generous gifts to SGH. We are heartened by the support shown to bring comfort and relief to our many colleagues in different service areas and departments. As the fight against COVID-19 pandemic is far from over, we are grateful for the collective efforts by many parties to keep Singapore safe."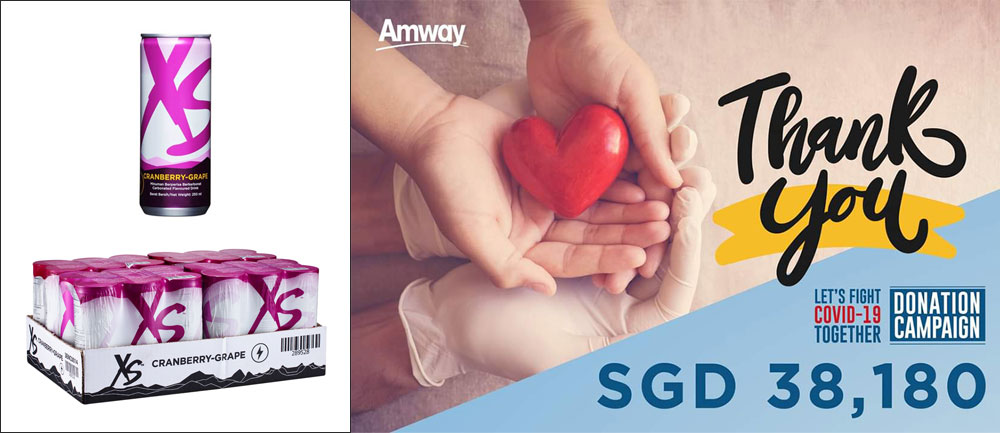 Amway Business Owners contribute to help community
In July to August 2020, Amway Singapore also launched a "Let's fight COVID-19 together" donation campaign and in collaboration with Amway Business Owners (ABO) and members of the Amway family to join in the effort to raise funds to combat the pandemic. A total of S$38,180 was raised through this campaign and the fund were donated to SGH Healthy Communities Fund to support SGH's work in caring for the community during the pandemic.
In expressing her gratitude to the ABOs, Ms Amanda Kok acknowledged that the COVID-19 outbreak has affected Singaporeans in so many ways. "More than ever, the pandemic has made us realise just how precious our health is. We hope to uphold our Amway vision, as well as do our part to fight this pandemic," said Ms Kok.
In line with the Amway vision, Amway Singapore recently launched a Nutrilite campaign to help individuals make smart nutritional choices for themselves and their family. Watch the video below and click to find out more!

Video: Making the Smart Choice For You & Your Family
About the company
Amway Singapore is a health and wellness company with a vision of helping people live better, healthier lives. It is a direct selling business that partners with Amway Business Owners (ABO) to sell Amway products nationwide. Amway provides high quality products and the opportunity for people to start their own business and earn extra income.
Find out more at Amway.sg.